Triad of Being
Last time we informed you about the Triad of Being, designed and given as a gift to the Asharum by Yoginâm at the occasion of his 75th birthday, as a symbol of Nâm. The Triad of Being has a special place and relevance in the garden for both us and the visitors of the Asharum, as it is a focal point on the meditation walk. In addition, having the Triad of Being as a continuous orientation while doing daily chores in the garden serves as a constant reminder of the true reason we live here.
The Triad of Being symbolises the human nature by representing a deep realisation in the simplest of forms. Therefore, the experience of ascending and descending the Triad of Being generates a very particular impulse, difficult to explain.
Yoginâm wrote a text, specially dedicated to the Triad of Being. If you are interested in the deeper meaning behind the Triad of Being, you can download this text here.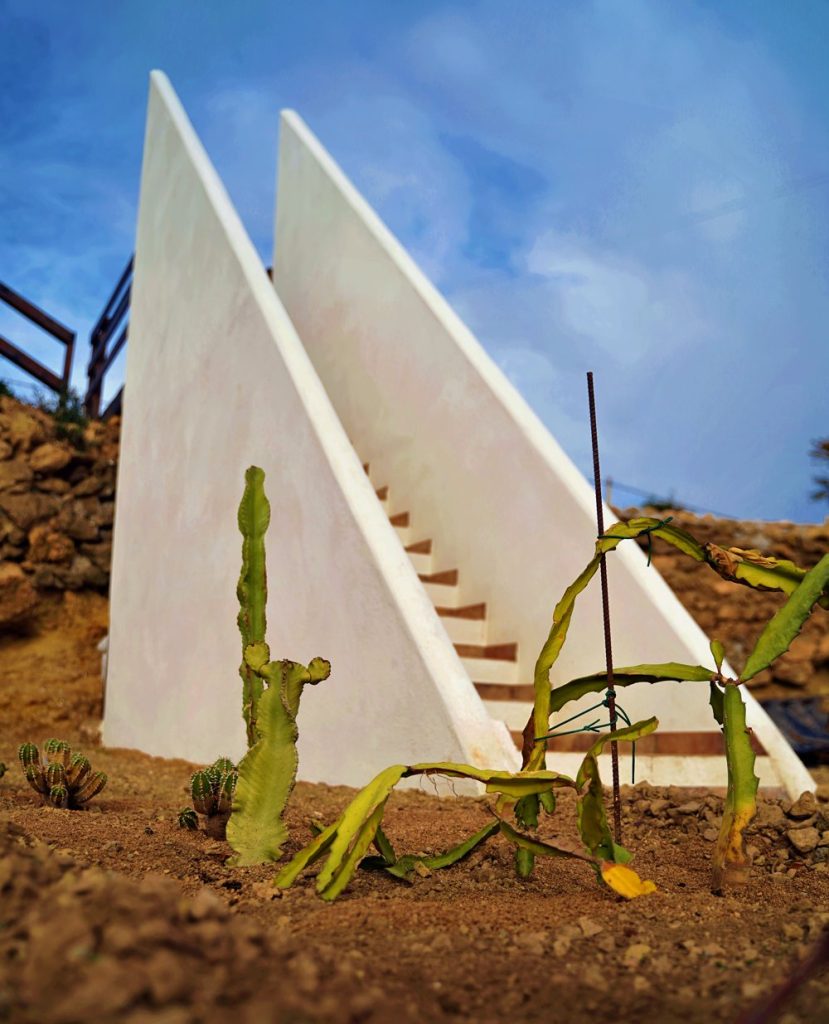 February: a warm month
We had a very warm month with temperatures that normally occur in May so it was an enjoyable time to be outside and work in the garden. During this last month we had a visit from Claudia and Igor and they were very active in helping in the kitchen and garden. Claudia made marmelade and pickled some of our olives and Igor moved a lot of stones and helped Edwin with the walls. We had some day visitors as well as Alexander and Sana came by, Rene and Yvette visited and some new neighbouring friends; Jack and Helma were encountered. These were very generous in offering us their horse manure to improve our soil, and we now have a big pile of old horse manure which we can mix with straw and use as mulch in our garden. Andrée is recovering well, one arm is already free of the cast so she is now more able to do things on her own. Meanwhile, she used her recovery time to improve her Spanish.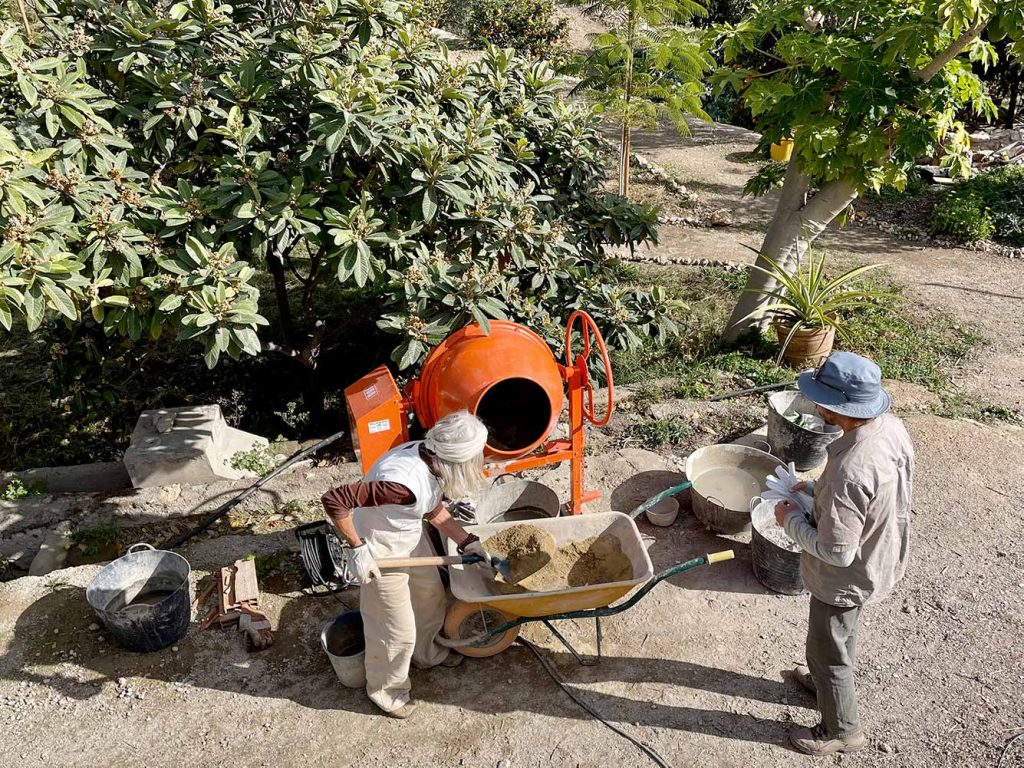 The garden of the Asharum Nijar: Back to the Roots
There were some new additions to the garden, amongst which some local trees like pomegranate, almonds, mastic trees and some bushes like myrtle, sea buckthorn and a kind of broom (a cytisus maderensis). We also started a field of strawberries to give us a tasteful summer snack. With these new additions, the garden is becoming more and more filled. This years' first attempt to sow green manure (like clovers, borage and lupine) has not yet resulted in new plants coming up. It has been very dry (almost no rain fell) and the ground gets very hard so the seeds have a hard time to sprout in these conditions. On some spots, where we enriched the soil with extra potting soil, they are coming up. The next weeks we will try to sow more different types and with some extra care, and perhaps some rain, we hope to have more success.
A greenhouse, or a winter nursery, has been created so we can grow seedlings while the outside weather is still a bit rough. Martin did most of the work in building it, and when it was finished, we soon realised it definitely needs some ventilation as it heats up pretty fast in the Mediterranean sun. Last weekend, Martin came an made two beautiful sliding windows at the back end of the greenhouse. This week we will find out how to control the temperature inside and we can start with sprouting some summer crops like watermelon, tomato, pumpkin and corn.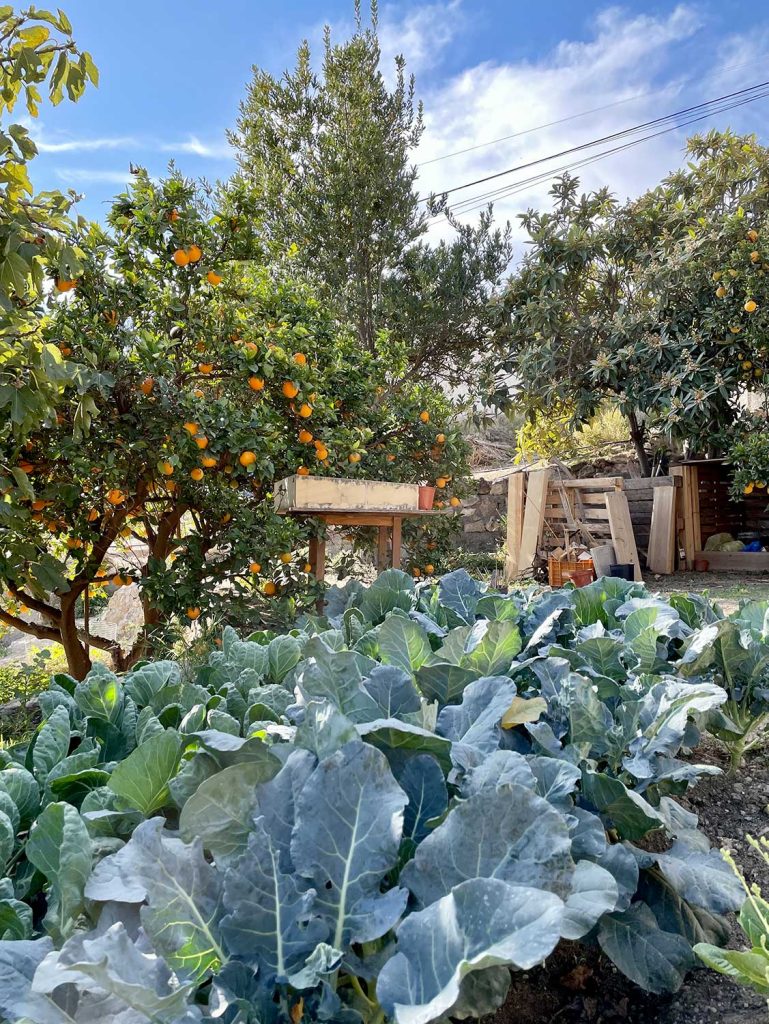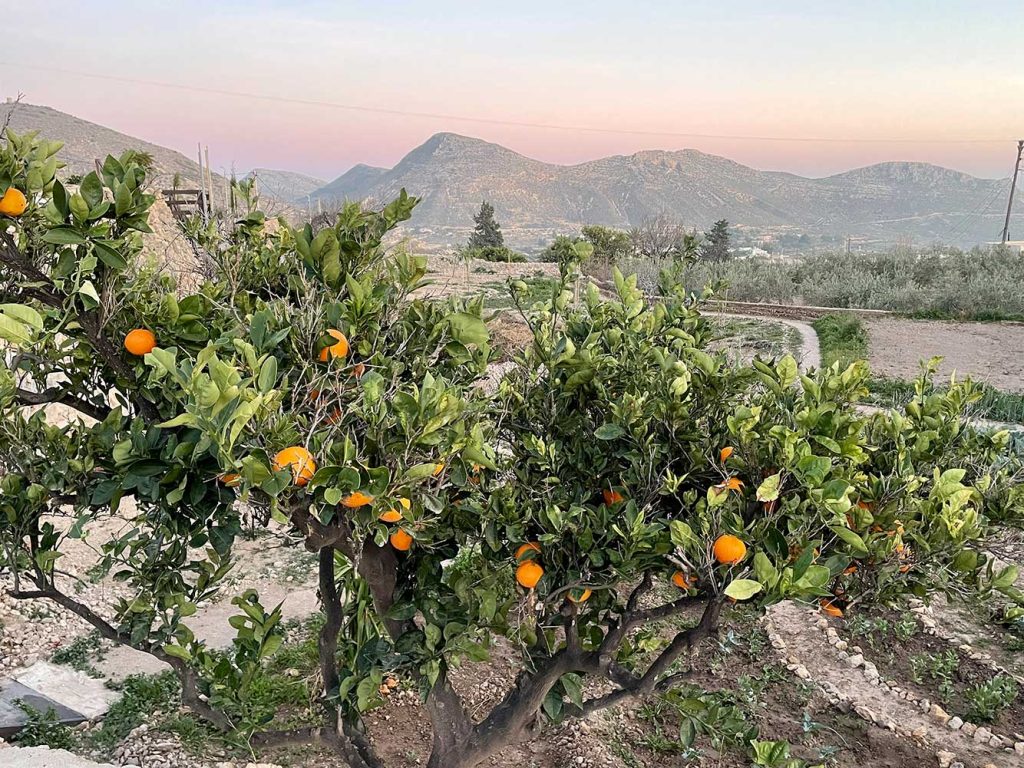 Building and improving
Next to the kitchen a new terrace is being constructed. A new wall has been erected at the end of the existing terrace and behind it, this new terrace will be in full sun while being protected from the main wind direction. It is also a place where we can sit without being seen from the public road, so it offers some more privacy and it is a perfect place to dry our laundry. Up to now, the laundry racks have been moving around the place and with sudden wind gushes, it happened more than once that they fell over, sometimes making the freshly washed laundry dirty before we could use it. It may sound trivial, but being able to hide the laundry from the main view from the street, improves the general appearance of our Asharum.